Mississippi Native David Abney to Receive Georgia's Highest Honor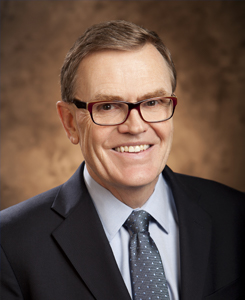 GEORGIA – On Saturday, June 5, 2021, in the first-ever televised broadcast of the Georgia Trustees Gala, David Abney, former Chairman of UPS and a native of Greenwood, Mississippi, will be inducted by Georgia Governor Brian Kemp and the Georgia Historical Society as a modern-day Georgia Trustee. It is the highest honor the State of Georgia can confer.

David Abney is the former Executive Chairman of the UPS Board of Directors. He served as CEO of UPS from 2014 until May 2020 and was appointed Chairman of the Board in 2016.  Before his role as Chairman and CEO, Abney served as the company's Chief Operating Officer, overseeing logistics, sustainability, engineering, and all facets of UPS's global transportation network.  Abney began his UPS career in 1974 as a part-time UPS package loader while attending Delta State University.

Abney earned a bachelor's degree in business administration from Delta State University, where he and his wife, Sherry, sponsor the school's annual symposium on international business. Abney is a member of the National Board of Directors at Mississippi State University where he is President of the Bulldog Club and a member of the Executive Advisory Board for the MSU College of Business.

Abney will be inducted along with Juanita Baranco, the Executive Vice President and COO of Baranco Automotive Group.

"Given the dramatic events of this past year, I can't think of two more appropriate people to induct as Georgia Trustees than David Abney and Juanita Baranco," said Dr. W. Todd Groce, President, and CEO of the Georgia Historical Society. "Both have overcome great adversity to reach the pinnacle of their careers; both have been visionaries who led by the example of their deeds as much as by their words. The positive impact they have had on those around them and their remarkable achievement in the face of great odds is a testament to how the values that unite us—hard work, perseverance, and a commitment to doing right and putting others first—are more powerful than the things that divide."

In conjunction with the Governor's Office, the Georgia Historical Society reestablished the Georgia Trustees in 2008 as a way of recognizing modern-day Georgians whose accomplishments and community service reflect the highest ideals of the founding body of Trustees. The original Georgia Trustees were a governing body chartered and appointed by His Majesty King George II of England in 1732 to establish a new colony in North America.  They founded Georgia upon the principle of Non Sibi, Sed Aliis, "Not for Self but for Others."  The Governor annually appoints new Trustees whose history-making accomplishments and service reflect the original Trustees' ideals.

The Trustees Gala will be broadcast through statewide partners in Georgia at 8:00 p.m. EST (7:00 p.m. CST) on PBA in Atlanta and WTOC in Savannah, and at 7:00 p.m. EST (6:00 p.m. CST) on WRBL in Columbus and WJBF in Augusta. It can also be streamed from anywhere on the Georgia Historical Society YouTube channel at 8:00 p.m. EST (7:00 p.m. CST).

For more information on the induction of David Abney as a Georgia Trustee, contact Patricia Meagher, Director of Communications, at (912) 651-2125, ext. 153 or by email at PMeagher@GeorgiaHistory.com.