Mo Willems on the Lost Art of Being Silly
CREATIVITY:  Excerpt from Edutopia
The author of Don't Let the Pigeon Drive The Bus! chats with us about creativity, drawing as empathy, and letting kids "do 51 percent of the work."
February 21, 2020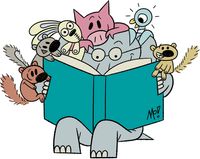 Art © Mo Willems. ELEPHANT & PIGGIE is a trademark of The Mo Willems Studio, Inc.
When I taught second grade, I had a student who absolutely hated reading. He'd made the decision that it was simply too boring. While his peers were busy devouring books, he'd spend his time distracting them, being silly, finding other things to occupy his time.
That changed when we started reading Mo Willems's We Are in a Book! I voiced the part of the elephant, Gerald, and he took the part of the pig, Piggie—good pals who come to realize that they are, in fact, in a book, and have the hilarity-provoking power to control what the readers say.
Something about that dynamic must have been thrilling to my student, because We Are in a Book! turned him into a reader. It dawned on him, I think, that his own desire for silliness and play could be fulfilled in a story.
My second grader's experience isn't unusual. Young children around the world are drawn to the distinctive voice and visual style of Willems, who spent years working for Sesame Street before going on to write and illustrate dozens of books, winning three Caldecott awards along the way—for Don't Let the Pigeon Drive the Bus!, Knuffle Bunny: A Cautionary Tale, and Knuffle Bunny Too: A Case of Mistaken Identity.
I recently had the opportunity to talk with Willems about the inherent power of drawing, why adults should consider undergoing "shame-ectomies," and why he's always on the side of the kids. Our conversation has been edited for length and clarity.
EDUTOPIA: You seem to have unique insight about what young children crave from their reading experiences.
MO WILLEMS: I don't think I'm more unique than anyone else. What I want to bring to the table is a respect for kids by creating 49 percent of the work and leaving enough space for my readers to create the remaining 51 percent. When people are engaged and actually have a part to play in the story, the story means more. So, for instance, in Don't Let the Pigeon Drive the Bus!, the audience is never instructed to say "no." The fun is in having to figure that out.
For me a good book is a question, not an answer. It's about asking fundamental questions: What is friendship? Why are people the way they are? How do you talk to somebody about how you don't like what they do? Why can't I drive a bus? If you create a book with the answer, it's already ruined, because then you're just writing an instruction manual.
Read the full article by going on-line to:  https://www.edutopia.org/article/mo-willems-lost-art-being-sillyutm_source=Edutopia+Newsletter&utm_campaign=a93388e794EMAIL_CAMPAIGN_030420_enews_mowillems&utm_medium=email&utm_term=0_f72e8cc8c4-a93388e794-85189055