Valdosta's biggest spill ever: sewage into Sugar Creek, Withlacoochee River 2019-12-09
Valdosta – While WWALS Watershed Coalition (Suwannee RIVERKEEPER®) was congratulating Valdosta Utilities Director Darryl Muse Thursday evening on no spills for months, Valdosta's biggest-ever raw sewage spill was apparently already happening, and even he didn't know.
Yet again Valdosta failed to adequately inform the public, or, for that matter, the Georgia Environmental Protection Division.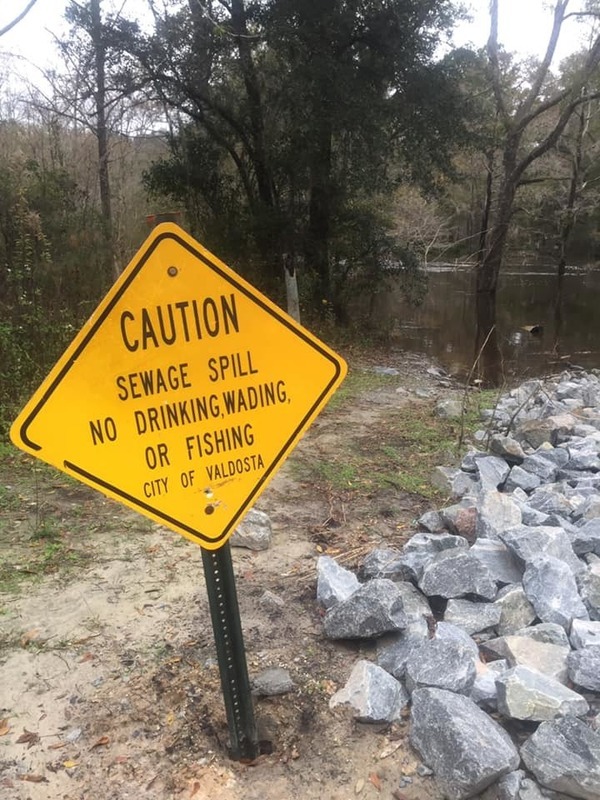 Photo: Julie Bowland, of Valdosta sewage spill sign at Troupville Boat Ramp, 21 December 2018.How Bad Is It?
The 7,592,910 gallons of raw sewage spilled this time is more than the 6,273,595 gallons Valdosta spilled in two dozen incidents last December.
It's 3.45 times Valdosta's previous biggest single incident.
It's 42 times the biggest other spill in today's report, for Peachtree City.
And it took Valdosta days to notice one of their biggest lift stations was offline, or that input to their biggest WTP was half what it should be.
People with wells along the Withlacoochee are expecting E. coli.
Hamilton County, Florida, is closing boat ramps. Given the lack of river water to dilute the sewage, that seems prudent.
Perhaps EPD should contemplate a different approach this time. I have asked them to look into it.
Lack of Transparency
As you know, last night we found out from Madison County Emergency Management's facebook page that Madison and Hamilton County Departments of Health had put out a bacterial warning. I sene email last night to Valdosta Utilities, City Manager, a City Council member, and GA-EPD, asking for more information.
Shortly after 8 AM this morning I called Scott Fowler, listed by Hamilton and Madison County DoH as the Valdosta Utilities contact, and he said the higher-ups in the Valdosta city government were still working through the process for sending out a press release. I pointed out I was in Live Oak and the Suwannee River Water Management District (SRWMD) Board meeting would start at 9 AM. He said SRWMD's Tom Mirti had already advised him of that, but it was out of his hands. He also volunteered that whatever notice went out last night had not come from him, it had come from "downtown." I asked what that meant, and he said City Hall.
Other informants tell me last night's notification to the Florida health departments was sent by Valdosta City Manager Mark Barber. Well, despite years of WWALS requesting that Valdosta do so, he did not copy WWALS. We don't like getting blindsided any more than the general public does.
The press release finally arrived at 9:08 AM this morning.
GA-EPD told me this morning that they had only a telephone notification. As of 3:30 PM this afternoon, this Valdosta spill is still not in GA-EPD's online Sewage Spills Report.
The Valdosta press release refers to "the previous few days". Now I hear that it was 4.5 days before Valdosta discovered the problem. Given that they fixed it Monday morning, that means the spill must have been happening as early as Thursday morning.
Further, they say they fixed it Monday morning, but they didn't put out a press release until Tuesday morning.
Valdosta has a reputation for hiding information, and this incident will do nothing to dispell that reputation.
Valdosta also doesn't seem to understand it's not even just E. coli getting into wells downstream, although that would be bad enough.
It's also the stigma, which stretches all the way down the Suwannee River to the Gulf. The stigma stinks its way upstream, too, which is why Columbia and Alachua Counties are part of the dozen-county Florida Task Force to deal with Valdosta sewage. Don't be surprised if you see an emergency meeting of that group.
FOR IMMEDIATE RELEASE
December 10, 2019
Release #12-10-113
Contractor Error Results in Sewer Overflow
On December 9, 2019, the City of Valdosta staff at the Withlacoochee Wastewater Treatment plant notified Environmental Services personnel to inform them that flow into the plant had decreased by 50% over the previous few days. After a brief investigation, Utility personnel noticed that a contractor working on the city's SCADA system disconnected a reference cable at the Remerton Lift Station for testing and failed to reconnect it. As a result of the incident, the lift station's level indicator and alarm agent were disconnected. The lift station's alarm agent system did not operate as it normally would, bypassing the alert notification that is typically sent to utility staff when there is an issue at a lift station.
Utility crews resolved the issue Monday morning by turning the pumps back on and reconnecting the reference cable. The lift station is now back to normal operation.
Based on the flow information collected, approximately 7,592,910 gallons discharged from a manhole into Sugar Creek adjacent to the 1800 block of Norman Drive. All appropriate regulatory and public health agencies have been notified. Warning signs have been posted at the spill location and downstream to advise the public to avoid any contact with this waterway for the next seven days. Staff immediately began monitoring and testing the impacted area and began the cleanup and disinfection of the overflow location and discharge point into the stream.
Sewer spills are not acceptable at any time. It has been the city's top priority to prevent them all through the construction of the new WWTP and the Force Main, as well as the Lift Station Rehab Program, Smoke Testing Program, Annual Manhole Rehab Program, and the ongoing River Sampling Program that tests waters before, during and after major rain events.
The city continues its ongoing efforts to improve the infrastructure of the sewer system to eliminate these issues in the future. Improving our sewer system has and will continue to be a main priority.
For more information, contact the Utilities Department Environmental Manager Scott Fowler at 229-259-3592 or sfowler@valdostacity.com.
-end-
Ashlyn Johnson
Public Information Officer
ajohnson@valdostacity.com
229-251-4779
www.valdostacity.com
-jsq, John S. Quarterman, Suwannee RIVERKEEPER®